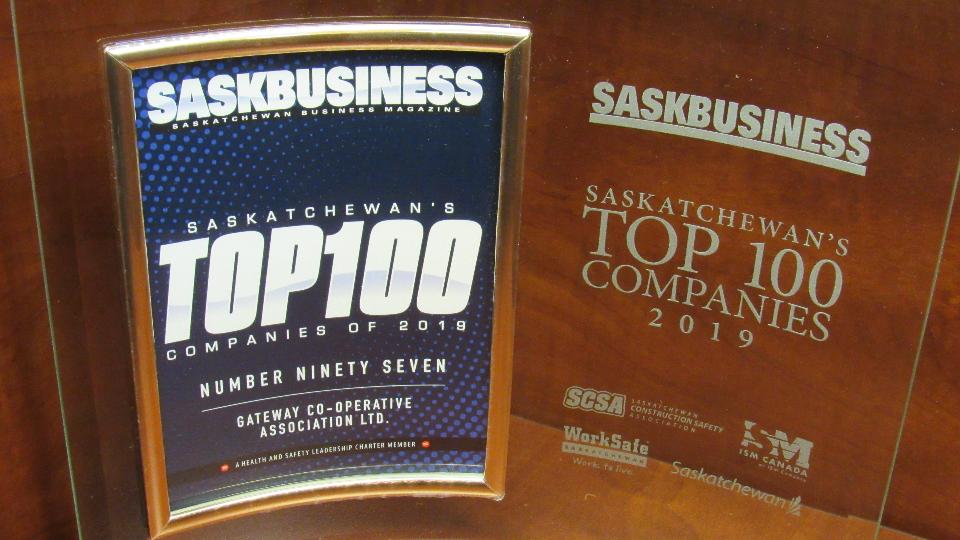 Gateway Co-op is #97!
September 27, 2019
Co-op claims 27 spots on Sask. Top 100 list

Sep 9, 2019

This year, six more local co-ops have joined the ranks of SaskBusiness Magazine's Top 100 companies in Saskatchewan, bringing the CRS's total placements on the list up to 27 from 21 in 2018. FCL placed second in the rankings.
The sales of FCL and these local co-ops reached a combined total of almost $13.7 billion in 2018. This includes almost $10.7 billion in revenue from FCL, with a record of nearly $1.1 billion in net earnings.
"This achievement demonstrates the value that local co-ops continue to provide for communities across Saskatchewan," said FCL CEO Scott Banda.
"The growing number of local co-ops on this list shows us that the co-operative model is not only relevant to consumers today, but that the Co-operative Retailing System remains a powerful economic driver in this province and across Western Canada. Our shared successes are a direct result of working together to benefit our local communities."
Today, there are more than 90 local Co-ops in Saskatchewan. Together, FCL and retail co-ops in the CRS employ close to 10,000 people in Saskatchewan.
Ranking Wholesale/Retail Co-operative Location

2 Federated Co-operatives Limited Saskatoon

19 Saskatoon Co-operative Association Limited Saskatoon

24 Lake Country Co-operative Association Limited Prince Albert

25 Pioneer Co-operative Association Limited Swift Current

30 Sherwood Co-operative Association Limited Regina

42 Lloydminster & District Co-operative Association Limited Lloydminster

46 Discovery Co-operative Association Limited North Battleford

52 Legacy Co-operative Association Limited Yorkton

55 Prairie North Co-operative Association Limited Melfort

59 Prairie Co-operative Association Limited Melville

61 Meadow Lake Co-operative Association Limited Meadow Lake

63 Prairie Sky Co-operative Association Limited Weyburn

64 Moose Jaw Co-operative Association Limited Moose Jaw

69 Kindersley & District Co-operative Association Limited Kindersley

72 Southern Plains Co-operative Association Limited Estevan

77 Pineland Co-operative Association Limited Nipawin

79 Delta Co-operative Association Limited Unity

81 Borderland Co-operative Association Limited Moosomin

82 Central Plains Co-operative Association Limited Rosetown

84 Southland Co-operative Association Limited Assiniboia

85 Riverbend Co-operative Association Limited Outlook

92 Beeland Co-operative Association Limited Tisdale

93 Turtleford & District Co-operative Association Limited Turtleford

94 Humboldt Co-operative Association Limited Humboldt

96 Advantage Co-operative Association Limited Redvers

97 Gateway Co-operative Association Limited Canora

98 Hometown Co-operative Association Limited Broadview